---
---
New-generation towel products - magic sponge series towel
The sponge series towel is a new cotton product with patented technology in China, which was researched and developed by Nantong Dadong Co., Ltd. for 5 years. Provincial high-tech product certificate.
China National Utility Model Patent Certificate - Patent No.: ZL2012 20093262.3 Certificate No.: No. 2489471
China National Invention Patent Certificate (Processing Method): Patent No.: ZL 2012 10065404.X Certificate No.: No. 1250244
Jiangsu Province High-tech Product Certification: Product Number: 120623G0360N
1. The product is made of 100% cotton and made of special yarn by patented method. After professional textile technology, the surface of the towel is soft and comfortable to the touch, with large water absorption and instant water absorption.
2. Easy to dry: Because a large amount of air is stored inside the special yarn, it can quickly dissipate the moisture through the circulation of the air, so that the towel is often kept dry and comfortable.
3. Not easy to lint: the towel has a low lint rate during washing
4. Fluffy and soft: Due to the use of patented yarn, the product is more fluffy and soft
5. After washing, it is more fluffy and soft without hardening: ordinary products will have different degrees of hardening after washing, and the softness will become worse, but this product is more fluffy and soft after washing, not easy to harden, and the style does not change much from before use .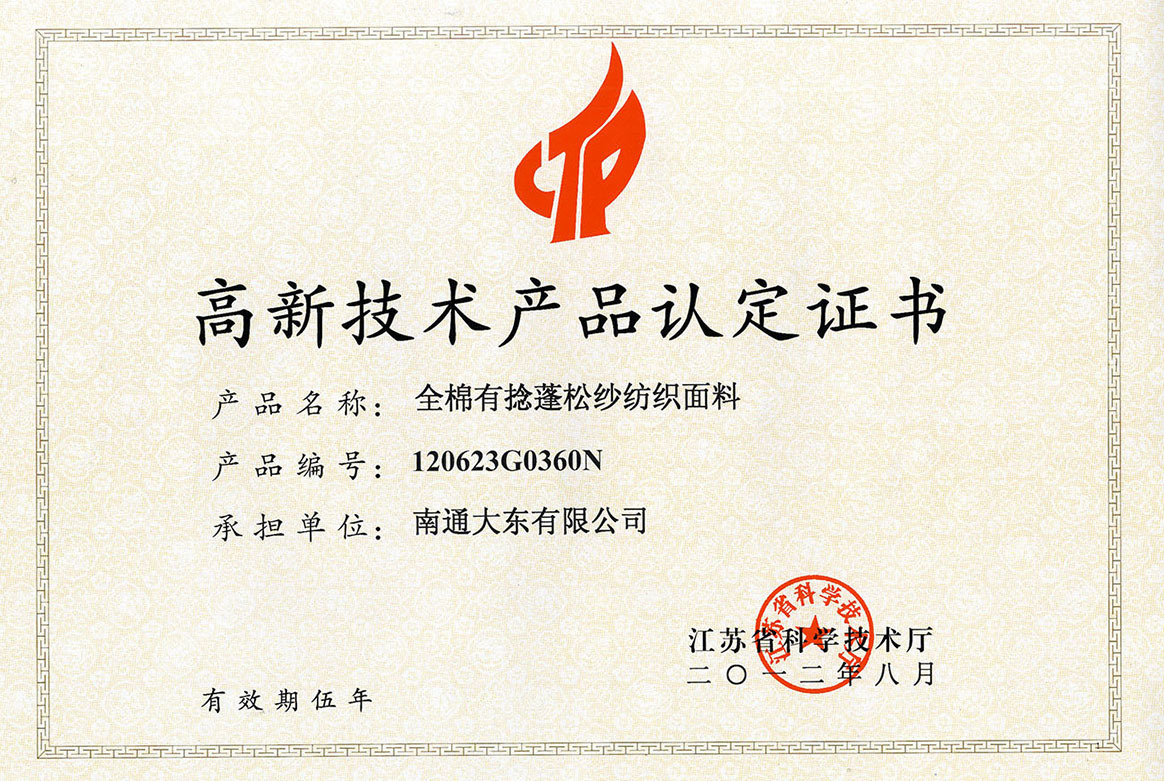 Submit your request online
Please fill in the required information and we will contact you as soon as possible
Nantong Dadong Co., Ltd. (China)
Address: No.168 Fuchunjiang West Road, Juegang Town, Rudong County, Nantong, Jiangsu
Shanghai, China · Vietnam · Tokyo, Japan
Follow wechat official account
---
Copyright © 2022 Nantong Dadong Co., Ltd.