---
Zhou Yang, Chief of Equipment Section of Dadong Company, was named as a National Model Worker
---
Zhou Yang, Chief of Equipment Section of Dadong Company, was named as a National Model Worker
On the morning of April 28, the 2015 May Day Celebration and National Model Worker Conference organized by the All-China Federation of Trade Unions was held in the Great Hall of the People in the capital Beijing. Zhou Yang, the equipment section chief of Dadong Company, attended the event honorably wearing the National Model Worker Medal. He is the only national labor model in the textile system of Jiangsu Province this year.
  Zhou Yang, 37 years old, graduated from technical secondary school in 1999 and entered Dadong to work. Over the past 16 years, he has been based on his own job, dedicated to his work, self-study, diligent and specialized research, constantly exploring and improving in practice, stimulating innovation in hard work, and improving his business skills, especially difficult electrical maintenance technology and imported electrical equipment. The localization supporting ability has achieved admirable good results. Most of the towel looms of Dadong Company are imported looms. Some electrical parts on the looms are wearing parts. It is not only expensive to replace one, but also the delivery speed is very slow. Zhou Yang was anxious to see it in his eyes. He devoted himself to the maintenance of imported circuit boards and the independent investigation of incurable diseases of the electrical equipment of hundreds of imported looms. He led the electrician team to save nearly 10 million yuan in costs for the company. He is called "acupuncture hand for the treatment of intractable electrical diseases", "the attending physician for the maintenance of imported electrical equipment", and "the good brother and good foreman of electrician technicians" by coworkers and people in the same industry. He also obtained a patent for an invention.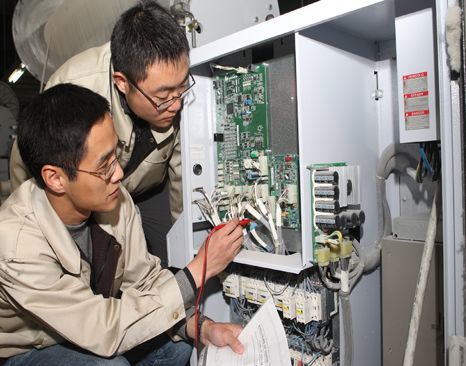 In May 2005, Zhou Yang was rated as a model worker in Nantong City. In 2007, he was rated as one of the "Top Ten Outstanding Employees in Dadong's 20 Years of Operation"; "Top Ten Talents with Outstanding Contributions in Rudong County"; "National Textile Industry Technical Expert"; In May 2010, he was named "Jiangsu Province Model Worker".